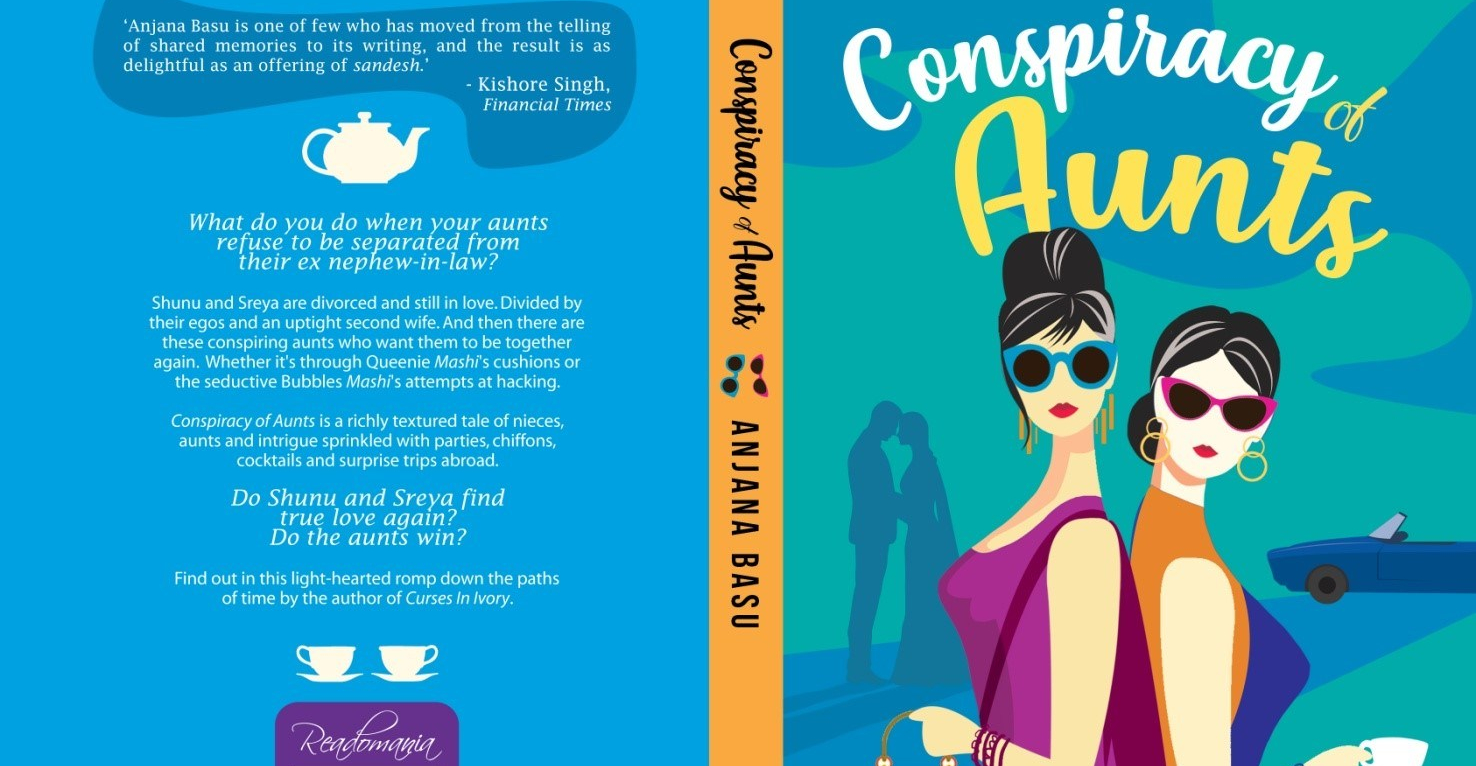 25 Jul

An Excerpt from Conspiracy of Aunts

I'm an unabashed romantic at heart. Give me a sweet romance to watch or read and my day is made. I love romance so much that I wanted to make my debut as an author with a rom-com, but my publisher and life had bigger surprises in store for me.

So when Readomania launched its first rom-com title, Conspiracy of Aunts, it got me all excited. Add to that, the interesting premise of the book – interfering aunties who want a divorced but still-in-love couple to get back together.

This was a refreshing change from the coterie of fictional scheming aunties who usually are on a mission to  drive a wedge between two lovebirds. I knew immediately I wanted to read this book.
Knowing that it offers an interesting glimpse of the world of elites during the decades of 50s and 90s and an insight into the close-knit, extended families of Kolkata as well as the social life of Bombay and London in 50s, I am more than excited to read this witty tale of love and drama that goes beyond the traditional romance tropes.  
What's even better is I got a sneak peak into the book even before I got my hands on it! Of course, how could I not share it with the world.
So here is it – an exclusive excerpt of Conspiracy of Aunts by Anjana Basu, published by Readomania.
---
The case of Bubbles, however, was something else. In a way she was like Queenie Mashi—except that Sreya's most immediate aunt had never fancied herself a nymphet and draped herself in formal weaves and silks. Bubbles, on the other hand, acquired a fine line in chiffon saris from the maharanis that Ghari Babu brought her into contact with and complemented their transparency with low cut blouses—a story that Sreya heard the day that she was being measured for her first blouse with her mother poised like a figurehead on a chair, eyes snapping at the tailor. The neckline, she stated, had to be modest. 'None of these anglicised cuts. Here,' stabbing a finger that traced a tingling line between Sreya's collarbones.
Sreya half wondered whether Bubbles Mashi had anything to do with Ma's fussiness about clothes—not that she knew more about her than the hissing coils of aunts provided. The photographs showed a far from sylphlike figure armed with amplitude of curves. The most prominent being the low dipping curve of the blouse's neckline dimly discernible through the veiling fabric. Would she have dressed like that at her parents' wedding then, when she had circled round the best man?
Not that chiffons were allowed at weddings no matter how anglicised you were. Ma's memories of Bubbles on that occasion were half-remembered since she was confined to a gaggle of aunts, grandmothers and school friends—appropriate company for a new bride. Later Baba had told her about Bubbles weaving her spells and speculated on the possibilities of their making a match of it. 'She must be the right age…how old is she?'
Apparently, she had been eleven and too young for an enlightened grandfather to contemplate marrying off. Ghari Babu prided himself on his progressive bent of mind, so Bubbles was allowed to continue doing whatever she did unhindered—the only stipulation being that she finish school. There was some hope that the Irish nuns would ultimately impose their discipline on her or at any rate improve her handwriting before she left. Judging by the postcards she scattered her progresses with, that hope went unrealised.
Six years later, when she stood on the brink of acceptable matrimonial eligibility, Bubbles was sent to visit friends in Bombay. It was felt that the greater sophistication of that glittering city would give her the finishing gloss that the nuns with their backboards and books on the head had not been able to achieve. Lady Ajita was not entirely in favour of this but given the fact that no appropriate grooms-to-be had yet presented themselves, she finally acquiesced.
Daringly, Bubbles was sent by plane. Bunny took a photograph of her standing on the runway, the end of her sari fluttering like a great wing behind her. In her bag she had a pair of slacks and a blouse carefully hidden under the piles of saris. She would be greeted at the Bombay airport by Ghari Babu's friend's wife, who had agreed to meet her at the foot of the plane steps.
Needless to say, Bubbles was airsick and found comfort in the attentions of a steward in a starched white uniform. He stood by her proffering damp lemon-scented napkins that she could dab her temples with and peppermint to chase her queasiness away. She took comfort in the whiff s of lemon and the strong male hand that held up the napkins. It was the first time she had been without a member of her family in attendance and as she batted her eyes at the steward over the edge of the napkin she had a feeling that there was a lot to be said for it. In the time it took for the flight to reach Bombay, the young man was at her constant beck and call, much to the irritation of his fellow air hostesses.
He carried her shocking pink vanity case and an armful of magazines for her as she wafted her way down the steps only to be met by her hostess who curtly waved the young man away without giving him a chance to get Bubbles' phone number. He stood on the steps, automatically bidding disembarking passengers farewell and out of the corner of his eye watching the shocking pink bag disappear into the depths of a limousine and realising that she was far above his sphere.
---
Blurb
What do you do when your aunts refuse to be separated from your ex nephew-in-law?
Shunu and Sreya are divorced and still in love. Divided by their egos and an uptight second wife. And then there are these conspiring aunts who want them to be together again. Whether it's through Queenie Mashi's cushions or the seductive Bubbles Mashi's attempts at hacking.
Conspiracy of Aunts is a richly textured tale of nieces, aunts and intrigue sprinkled with parties, chiffons, cocktails and surprise trips abroad.
Do Shunu and Shreya find true love again? Do the aunts win?
Find out in this light-hearted romp down the paths of time by the author of Curses in Ivory.
About the Author
Born in Allahabad, schooled for a time in the UK, Anjana Basu has published seven novels and two books of poetry. The BBC has broadcast one of her short stories. In 2004, she was awarded a Hawthornden Fellowship in Scotland where she worked on her second novel, Black Tongue published. She began writing for children in 2010 with Chinku and the Wolfboy, the Jim Corbett series for TERI—In the Shadow of the Leaves, Leopard in the Laboratory and Eighteen Tides and a Tiger. Her byline has appeared in Vogue India, Conde Nast Traveller, The Hindu, Outlook and Outlook Traveller.
Anjana Basu lives and works as an advertising consultant in Calcutta. She can be contacted at: [email protected].
Conspiracy of Aunts is available online at Amazon.
---
Do you like rom-coms? Which is the best romance you've read so far? Share your thoughts and feedback via the comment box below.