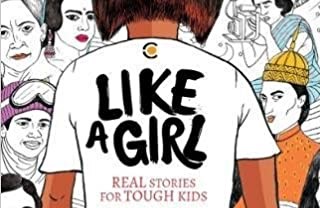 16 Nov

Book Review: Like A Girl by Aparna Jain

Did you know who was the first musician to be awarded the Bharat Ratna – the highest civilian award for our country?

It was M S Subbulakshmi.

That's right! She wasn't just the first female musician but rather the first musician ever. I hadn't known or realized this fact earlier so it left me in awe when I first read about it in Aparna Jain's Like A Girl. 

An introduction to Female Role Models

There are many more such jaw-dropping reveals about women's achievements in the book – some well-known, some less known, but all eye-popping, especially if you, like me, believe women have been marginalized since time immemorial. This book would be an eye-opener to everyone who thinks women have historically not played a significant role. For it not only highlights the women who had contributed to various fields like music, art, technology but also focusses those women who have questioned social norms and set a precedent for women in future to do the same and achieve the dreams they want.

Unfortunately, not only have marginalized these women and their achievements; we also tend to ignore the impact it has had on women's empowerment and the cause of feminism. And I include myself in that category for a lot of these women were known to me only by name, not by the work they did.

An assault on Indian Culture? Or rather, questioning the problematic customs

Every time I hear someone criticise a book or a piece of art with the argument that it's an attack of Indian culture, it makes me wonder what is culture and how do we decide what upholds it or attacks it.

This question became even more relevant while reading some of the accounts in this book.

Take, for example, Rukhmabai Raut, an 11-yr old was married off to a 19-yr old Dadaji Bhikaji. Even after Rukhma fought a long battle (opting to go to jail instead of her marital home) against this and won the case in the court, many thought it to be an attack on Indian culture.

Strangely, child marriage was part of Indian culture then. The practice is still prevalent in some parts of the country.

Take another such example.

Rukmini Devi Arundale, much to the displeasure of the public performed a public dance performance which was termed 'vulgar'. She is one the pioneers who made Bharatnatyam popular. Today, the Bharatnatyam dance form is an intrinsic part of Indian art and dance also known as Indian culture.

These women dared to question and defy the norms that dictated how 'good girl' is supposed to behave. Come to think of it, these are just two of the women from the book who made me think and appreciate the value of women's contribution throughout history.

It is therefore a cause for concern when even today someone raises a hue over that something disrespects a god or religion or culture. It is important for us to realize that if a deviation from the standard ends up offending even a certain section of society, then that practice probably needs changing anyway. For often it is that, the offending action is simply a refusal to adhere to regressive practices and the change from the norm is what we really object to.

Legal implications of women's fights against prevailing practices

Whether it be women being allowed to study or women being allowed to dance, or even being allowed to pursue professions like medicine, the struggle to get where we are today hasn't been easy. It has come on the backs of women who have fought long and hard.

Women like Rukhmabai Raut or Shah Bano Begum, who died even before she could see the victory of her struggle – it was long after her death that in 2017, the Supreme Court declared triple talaq unconstitutional.

Reading about this historic legal development reminded me of another recent landmark judgement – amendment to Article 370 which decriminalized homosexuality. Not only was it considered a major indicator of progressive change, it was also considered 'a victory for love'. The change-makers who spearheaded that fight too were women. Would be great to see a sequel to this book with more such names and recent women role-models in it.

Apart from activitists like Rukmabai Raut and Shah Bano Begum, the achievements and struggles of many more such doyens of change are narrated in this book. From more famous and obvious names from different fields of life such as politics (Mayawati), sports and outdoor activities (almost every woman athlete has been mentioned, right from Mary Kom to Poorna Malavath), business (Kiran Mazumdar Shaw) to the lesser known women (Birubhala Ramba, Tessy Thomas, Dayamani Barla, and many others) who quietly continue to fight under the radar without even being highlighted by mainstream media.

One of the major highlights of the book is that while it tom-toms the women's achievements, it does not shy away from making a statement where the legacy of some women has been tainted. Case-in-point, the piece on Indira Gandhi rightly calls her work a 'conflicted legacy' or J. Jayalalithaa, whose legacy is termed 'gravely conflicted'.

Interestingly, it is not just the achievements of these women that the book features. It is also the illustrators who are all female. Talk about 'walking the talk'.

Apart from admiring the stories that unfolded through the words, I also got lost in the fantastic and artistic illustrations. The illustrations not only add to the overall experience but also allows the reader to 'meet' the powerful role model, giving the reader a chance to imagine them as real, living breathing women rather than just some legendary figure who may or may not have existed.

While I loved reading this book and the many accounts of women's determined pursuits for making a space for themselves, I would have liked to read more about womxn from LGBTQIA+ community.

Understanding Feminism better

Often I hear the misogynists and anti-feminists squad bash up feminists and feminism at every pretext. They're called names, issued threats, all their work and contributions along with their intentions are questioned and ridiculed. It makes me sad to see how hellbent upon some sections of society are to discredit women. After reading this book, it makes me realize that the fight has always been the same. Only the causes and issues we fight for have changed.

Reading these stories gave me hope. For if these women were victorious and managed to get people to take enough notice of them to being about that very change they were fighting for then maybe we would do.

Maybe, we would have equal pay one day.
Maybe, we'd respect the LGBTQIA+ community more.
Maybe, we'd be able to emerge victorious in the fight against caste discrimination.
Maybe, we won't call women 'angry bitches' or try to control their behaviour.
Maybe, one day women wouldn't have to take an off from work to hide their scars from the previous night. For may be… Just maybe the scars won't be there at all. 

Maybe, we'd back the right fight. And maybe, we'd be proud to fight like a girl. Because, if anything, these girls have proved that thanks to them, the fight is stronger and harder. And thanks, to them, we've come this far where women are not just encouraged to study but also to scale mountains and chase tennis balls.

These stories give me hope. Because if today we're a better world than we were yesterday, then there is hope that tomorrow would be better than today.

Next time someone says, 'Oh, you're too feminist!' or that 'Don't bring feminism into everything!', I'll tell them instead to be more 'Like A Girl'. 
---
Have you read the book 'Like a Girl'? What did you think of it? Share your thoughts and comments using the comment box below.