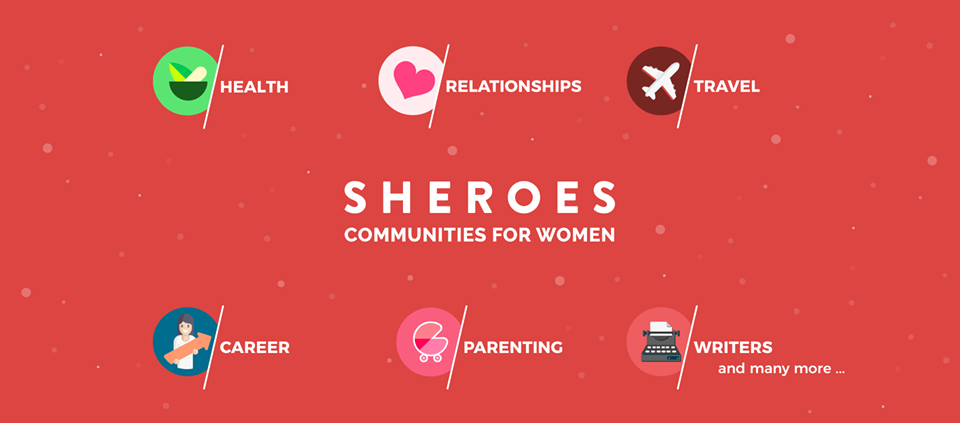 02 Feb

Product Review: Sheroes App

The first time I came in contact with what I now call my 'Sheroes gang' was at a bootcamp in Delhi.
 The SHEROES bootcamp was instrumental in giving me confidence that the transition from a high-paying hotel career to writing would work out fine.
I met women who were working from home, and some who were not working at all. There were a few, who like me, had struck out on their own and were just as apprehensive about their future.
Soon I got to know about the Sheroes app (only available on Android currently) and promptly downloaded it. After all, I wanted to remain connected to the community and the experts.
But the app is more than just a social network to remain connected. It has communities, resources, professional assistance, and challenges to help women discover their true potential.
There are communities that bring together women from all across the country, on the basis of various professional and personal interests. Some of the communities I frequently participate in are Sheroes, Travel, Teachers and Learners, Maala Support Group, Just for Fun, Career Guidance.
Communities like Bazaar, Money Matters, Arts & Crafts, Sports, Parenting, Graphic Designing, based on personal interests and professional skills, and for networking are just as popular.
The Maala Support Group often shares posts and tools for women who are subjected to domestic abuse and sexual violence. Members share articles and resources on legal recourses, support organizations, and financial aid for women who may need them.
The Love and Relationships community provides not just advice on relationships but also reminders to love oneself first.
There's even a dedicated Sheroes helpline where trained counselors provide emotional and psychological support that's kept confidential.
My favourite community, obviously, is the Aspiring Writers community for the wonderful prompts, articles, resources, and inspirational posts it offers for writers. I also had the honour of managing it for a week as a short-term project. It was wonderful to interact with so many fellow writers.
Sheroes is far more than just a mini version of  Facebook-meets-LinkedIn.
#FundSathiyasDream, was a heartwarming initiative that Sheroes started, and through a crowdfunding campaign helped Sathiya put together enough finances to open a beauty parlor.
There are many other such initiatives that the team keeps rolling out to help women achieve their dreams as well as grow personally and professionally.
A huge part of this network are the Sheroes Mentors and Champions – experts in their respective fields – who offer advice and guidance. As a member of this community, and even as a Sheroes Mentor and Champion, I feel blessed to interact with and inspire the incredible women. The members of the community are very interdependent on one another for guidance and support.
I often reply to members queries and help them overcome obstacles, doubts, concerns, and help make them feel better about themselves through the one-to-one interaction on the Ask Champion feature.
I have had some wonderful interactions and learnings myself. In the process, I have supported and been supported by a huge network of strong, inspiring women who spread positivity and love all around.
That's the power of having such a community at your fingertips.
Download it for yourself and check it out – https://shrs.me/m/zJAy9qjMQJ.
---
Have you used the Sheroes app? What did you think of it? Do you know of any other such communities and networks in India or outside. Do share your comments using the comment box below.