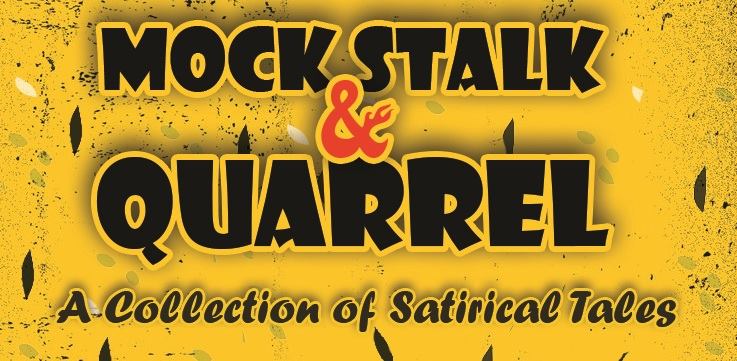 17 Nov

Satire – A Nuclear Weapon Unleashed!

I have been yakking about this ever since the first announcement was made. And yet, when it is finally happening, I do not know how to share the news with you.

The spaceship had flown over my head and rendered me dumbstruck. Add to that being 'trumped' in the USA and rendered 'cashless' in India – reasons enough for me to call it a new form of apocalypse. Roland Emmerich only got some minor details wrong. The year is 2016 and the catastrophe is more due to political and economic developments.

My only activity at this time is to stare into space and sing along with Bob Marley.

As I wait for the spaceship to pass, and my euphoria at becoming a published author (soon) to die down, Kirthi Jayakumar – my co-author from Mock, Stalk & Quarrel  – drops in at  Wandering Soul.

While I am speechless at her achievements and still reeling from the fact that she has a blue tick against her Twitter handle and is a TEDx speaker, (more reasons for me to be awestruck) I'll simply turn to her dedicated Wikipedia page to tell you more about her.
Kirthi is a women rights activist, a peace activist, an artist, a lawyer, and a writer. (PHEW!) She founded The Red Elephant Foundation, an initiative built on storytelling, civilian peace-building, and activism for gender equality. She is the author of Stories of Hope, a collection of short stories; The Dove's Lament, also a collection of short stories. She is the recipient of the US Presidential Services Medal in 2011 and two United Nations' Online Volunteering Awards apart from being an active UN Online Volunteer.
So is the world really coming to an end? YES! (Remember, I am on a mission of not saying NO!)
But fret not! For our saviour is here with her magic weapon. Over to Kirthi now …
---
I was in Class 10 when I chanced upon this nugget of gold in one of Anton Chekhov's works (whose name I cannot remember, put it down to purposeful forgetfulness):
"When asked, "Why do you always wear black?", he said, "I am mourning for my life."  
It came closely at a time when I was studying Shakespeare's Julius Caesar, where Brutus discusses with Cassius the war they were embroiled in, against Antonio and Octavius Caesar, saying:
"There is a tide in the affairs of men, Which taken at the flood, leads on to fortune. Omitted, all the voyage of their life is bound in shallows and in miseries. On such a full sea are we now afloat. And we must take the current when it serves, or lose our ventures."
Besides sounding incurably posh and uppity, my idea is to be able to contrast the shades of satire with a stark and grim reality that surrounds us in the name of world events. I'll do the right thing and go Zen on you, and use the detached way of saying things to lay claim to a very basic truth as the premise of my article: that shit happens. Shit happens at home. Shit happens at work. Heck, Shit happens in the world. (If you're still in the dark, take a moment to see why the world plunged into darkness on November 9, 2016. And no, Orange is not the new Black. Except if you're Taylor Schilling.)
It is crippling, and without much doubt, to go through with all the rigours of the world, you need a crutch.  That crutch, in my honest opinion, is satire. Take it from me: my current status message in life reads: The busy tone on my phone should say, "The person you're trying to reach is currently broken. Don't bother trying at all."
Humour is one of the best forms of alleviating the stress that's there in our lives. It is also a wonderful tool to use while raising difficult issues like the purpose of our existence. (I would know! After all, I exist for the sole purpose of proving the existence of aliens on Earth!)
You see life has dealt a lot of fun cards for me. I got all the twos, threes, fours and fives. I thought there were no jokers in the pack until I realized I was one already, holding cards that were believably no good, ergo looking like a joker, too. Strike one. Strike two. I can't say I won at life: I refused to show up for practice, I always turned up late, I have my brand of background music for every situation in life which distracts me, and there's the fact that I want to go in slow-mo to be more impactful in some of the things I do, but no one else is on the same page, and I wind up going on fast-forward. Strike three. I was out before I began to bat. But, the key to sailing through this spectacular hyphen between birth year and death year is a morbidly amusing realization: that none of us are going to make it out of here alive.
And so, why so serious? Mock the rubbish that happens under your nose in the name of policies. Stalk the trash that goes on covertly behind doors in the name of governance when it should all be out in the open as public knowledge, and Quarrel when your rights have been taken right out of your hand. And till you get there, stock up on the fuel you need to do all of that, right here.
---
Thank you Kirthi! It was a pleasure and an honour to host you on Wandering Soul – Conversations with an Alien!
Mock, Stalk & Quarrel is a collection of 29 satirical stories, penned by prolific writers and bestselling authors, that attempt to mock, question, defy, and raise a voice against issues that matter. The stories were chosen from a nationwide contest conducted by Readomania and compiled in this collection that promises to be an engaging and thought-provoking read. For more about the book and the authors, head to the Facebook page of Mock, Stalk & Quarrel
The official launch is in Delhi on November 25th and in Kolkatta on November 26th.
If you are in Delhi (or in Kolkatta) by any chance, feel free to drop in at the book launch. 🙂 Just let any of the organizers or authors present there know that the 'Alien from Wandering Soul' invited you. 🙂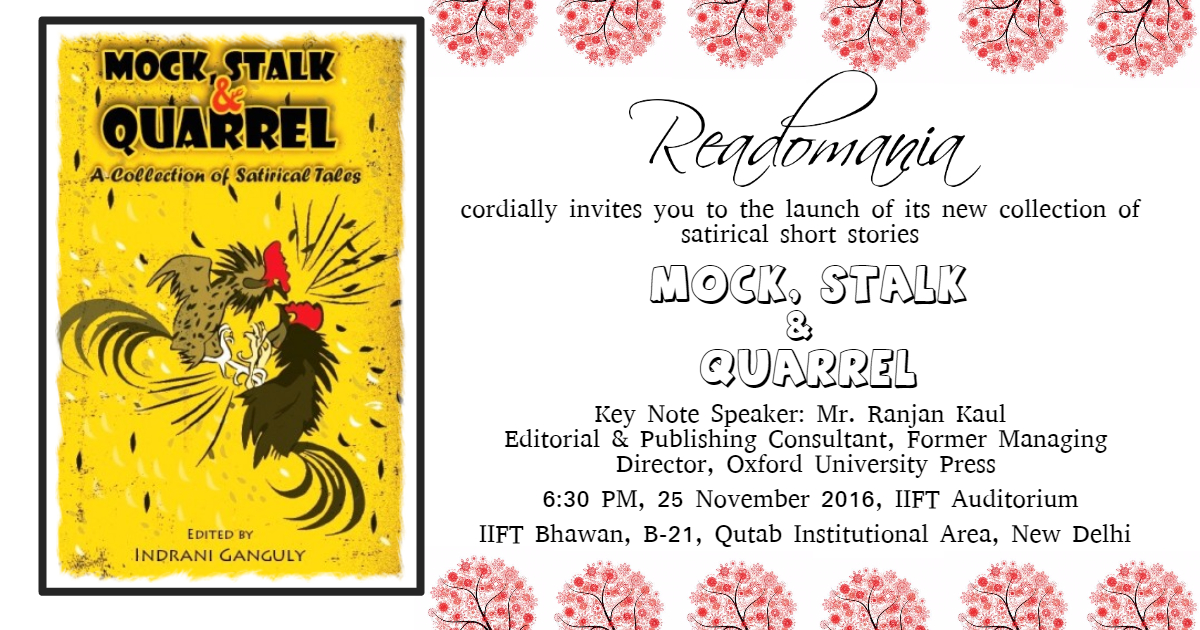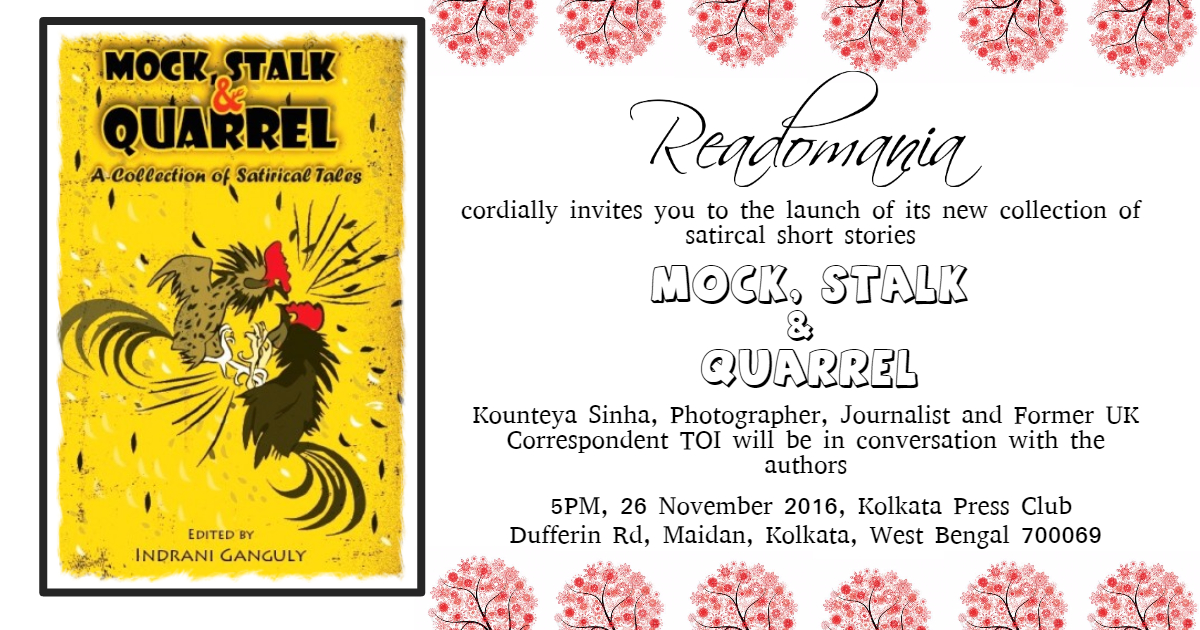 ---
Do you agree with Kirthi? What is your opinion on the need and use of Satire today? Share your opinions and comments via the comment box below.