19 Apr

Stories of Sikkim Part II

Sikkim is a beautiful state located in the north-eastern corner of India and its location in the mountains offers ample natural and also man-made attractions. From scenic views of the majestic Himalayas to architectural wonders, it has surprises in store at every turn (Pun not intended 😀 )

On my recent trip, my parents and I spent an exciting two days travelling and touring the beautiful cities of Gangtok and Namchi. We stayed at Gangtok and had plans to visit only those attractions that were in East Sikkim or within a travel time of a couple of hours.

We had made sight-seeing arrangements the previous night and being excited about the day ahead, got ready much before the appointed time. To kill time, my parents and I walked around the vicinity of our hotel exploring the local area. On the way back, this little cutie pie (below pic, left) bounded up to us out of nowhere and kept running in circles around our feet. We had to stay still to avoid tumbling over and rolling down the steep slope. Soon his owners appeared and his young human friend, who probably was no more than 5 years old, ran after him. It was fun to see them both chasing each other in turns and my parents and I were entertained for quite some time just watching the two of them scampering down the street.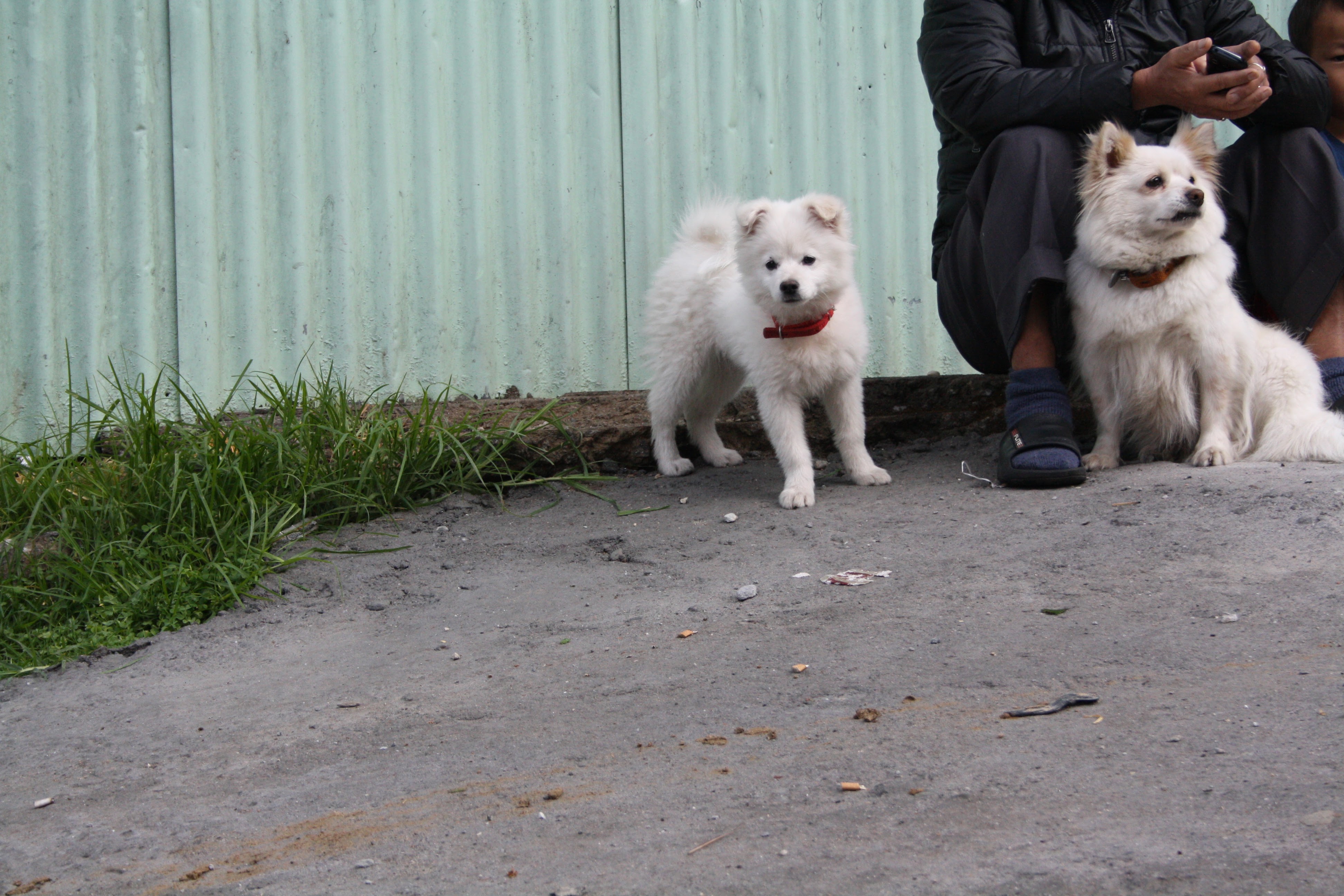 Day one was spent visiting nearby attractions like Banjhakri Falls, Rumtek Monastery and Flower Exhibition Centre.
Ban Jhakri Falls
A beautiful waterfall situated high up in the mountains and has the maximum water flow. The source of the waterfall is a further climb of  few hundred feet, which my parents refused to cover.
Happily, I went forward to explore on my own and came back with some beautiful moments etched in my memory.
These carefree kids were the perfect example of living in the moment, as they danced and pranced at the base of the first break in the waterfall. It was a delight to watch and it lifted my spirits just watching them play around.
Within the complex, there is a small park and a few souvenir shops in the vicinity. We spent some time here, taking pictures and window shopping.
Rumtek Monastery
 is the largest monastery in Sikkim and located at a height of 4900 feet. Here, we were lucky to encounter one of the Buddhist monks who explained the various paintings in the monastery, and the rituals and prayers they follow. He told us about the Karmapa lineage and the process of recognition for each subsequent head. It was quite an enlightening experience to learn about Buddhism and that too from one practicing it himself, as opposed to a tourist guide or a religious expert.
Our next few stops were some view-points and I had a lot of fun taking photographs of the thick green foliage and the mountains. Shanti Point, Tashi View point were the ones we visited. We skipped Ganesh Tok and Hanuman Tok and after a quick stopover at the Tibetology Museum (which houses some ancient art, instruments, and works on Tibetan culture), headed straight to the Flower Exhibition Centre. Having spotted some exquisite flowers at most residential houses and colourful plants across the region, all of us were very interested in the flora of this region.
Much to my dismay just before reaching the Flower Exhibition Center, my camera gave up on me. I had to make do with taking pics from my mobile phone, none of which do justice to the exotic beauty of this place.
Strangely enough, the camera started working just fine an hour later, as soon as we drove away. (You can imagine the tantrum I wanted to throw just to go back to take more pictures. Instead, I meekly suggested it to my parents like a good girl should, and in response received a resounding laugh. I went back to fiddling with the aperture, shutter speed, and focal length.)
All through the day, we had been hearing the name of MG Road as the best place for shopping and so in the evening we headed there for some more window shopping.
Visiting this place was a revelation. The whole street is paved and is accessible to pedestrians only. There is no parking facility and anyone heading to MG Road is discouraged from taking their own vehicles. Flanked by shops, restaurants and cafes, and shaded seating arrangements in the middle, the street is most definitely a shoppers' delight. The shopkeepers were extremely polite and restrained in their behaviour, a far cry from Delhi's haggling hawkers touting their overpriced wares at similar street side shopping destinations. 
It was an absolute pleasure to browse through the various displays without being pushed for a purchase. Despite most shops being crowded, the shopkeepers were extremely patient in answering the barrage of questions from every tourist and passer-by.
After the shopping spree, while heading back to the hotel, I spotted this beautiful cafe, Baker's Cafe, which seemed to be popular. Instantly the foodie in me took control and I dragged my parents in. The cafe was interestingly done up with quirky decor. The food was good and our evening was spent in bliss, sipping hot tea and nibbling on muffins.
The entrance to the cafe is via a  narrow stairway, so one needs to be slow and cautious.
We came back tired and happy. Women always are, after some retail therapy. 😀 After all, what would a trip be without some shopping. What do you say? What's your favourite travel activity? Have you ever discovered a restaurant not previously recommended to you?
Share your feedback and experiences via the comment box below.