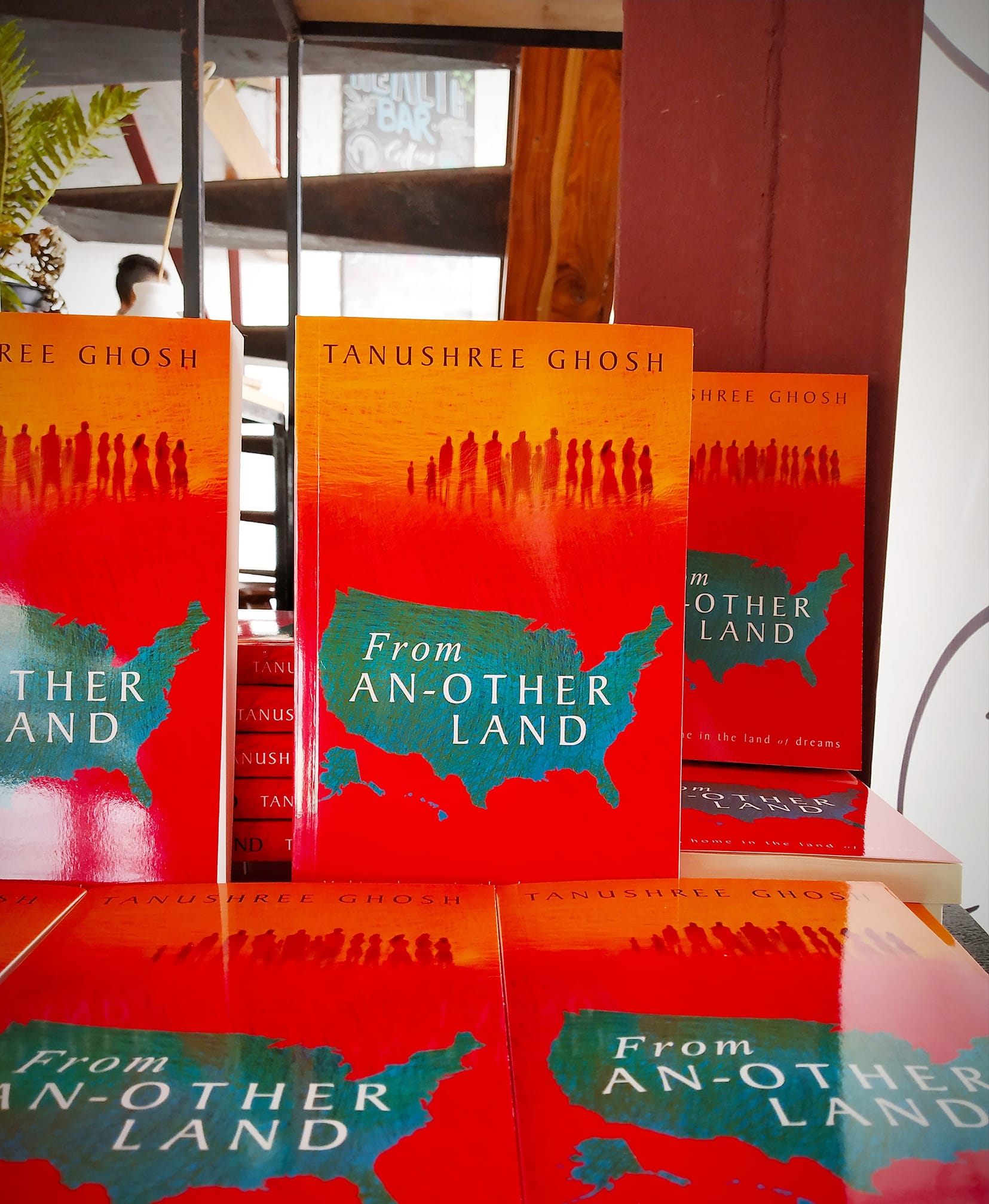 16 Jul

Author Interview: Tanushree Ghosh

Fellow writer, inspiring social activist, and dear friend, Tanushree Ghosh, recently published her first single-author book and I couldn't be happier. Unfortunately, due to innumerable reasons, I couldn't get my hands on the book earlier. And now, I don't want it to end.

The book in question, titled From Another Land: Making Home in the Land of Dreams, published by Readomania, is a collection of short stories that bring forth narratives of immigrants and their struggles while pursuing the golden life in the 'land of opportunities' – USA. Is life really as exotic as it seems? Or, is it a whole different scenario once you scratch beneath the surface.  The stories offer a startling reality of what it means to be an immigrant.

And since I am enjoying reading the book so much, I knew I wanted to know more about it and the process behind it. Who else better than the author herself to tell us the story behind the stories in From Another Land. Lucky me, for I soon got an opportunity to pick her brains about life in the US, why she wrote this book, on the hot topic of immigration, and what's coming next from her pen.

Read on.
---
Q. You were raised in India, have studied in US, are have now settled down there. Life has been quite a roller-coaster for you. What is your take?
Tanushree: For the most part, I feel life has been fortunate. I never forget that without the resources that were available at my disposal that allowed me to pursue whatever education I sought, from Presidency College Kolkata to Cornell University; food, shelter, clothing – things we take for granted to often; I possibly wouldn't have ended up where I am today.
Q. US is presented as this hallowed land of golden opportunity. They say one who manages to migrate there has a better quality of life and career choices. Is the grass genuinely green on that side?
Tanushree: Depends on what grass you feed on. I definitely feel that for my line of work, things I want to achieve both professionally, the causes I want to contribute to and the things I value for a higher quality life, the US provides better. That doesn't mean that this is universally true, nor does it mean there aren't serious cons to grapple with there.
Q. In 'From An-Other Land' you have captured the emotional journeys of non-natives settled in US. The book almost reads like a what-to-expect-from-USA. Why did you think of such a book?
Tanushree: I truly believe that you write best when you write from your direct experience. Even fiction, when conceptualized with what you understand, are passionate about, and put yourself into (literally, in the stories), I feel becomes better. In addition, I wanted to write a manuscript that doesn't tell anyone what to do, but at the same time, provokes thoughts. That is why in almost every story or post I write, I write about issues that I feel matter or should matter. I started feeling very strongly about the futility of borders and the need to understand and fight for the human race as a race, instead of as segregated and defined groups while I was in Cornell. So yes, the book does bring out (hopefully) the nuances and not so easy to grasp aspects of what to expect – but I had placed all the above thoughts into defining what my first single-author book should be on and arrived at this.
Q. Immigration is a hotly debated topic, globally. What's your view on this?
Tanushree: I am a strong supporter of open borders, offering asylum, and finding solutions as a human race. I am a big proponent of equality and equal distribution of resources. That doesn't mean I speak to dispel the challenges associated with such a world, from security to resource management and sharing. But I do believe that such actions should be defined with a heart and a human race hat on our heads, not a 'why is that my problem' hat. I have written repeatedly on this and topics (from the Syria crises to the issue of illegal immigration, the partial way in which Geneva Convention is remembered and implemented and the danger of nationalist zeal) many times on the forums I write for (e.g. the Huffington Post US, The Tribune, etc.) and on my blog, and in the author's note for the book.
Q. What do you think are the pros & cons of settling in the US?
Tanushree: When I came to the US, now fourteen years back, I did so in search of freedom. I wanted to be whoever I wanted to be, in every sense of the phrase possible. And the US didn't disappoint. The US allowed me to become a lot of things that I couldn't have in any way back in India. A lot of this has to do with the civic and economic infrastructure and law and order. The things we all imagine to fall into places by moving to a nation like the US – really do. But that's not all of it. As a woman particularly, it is hard now to trade this life of tremendously enhanced simplicity back.
But the US also opened my eyes to what we are becoming as a race. I realized here how prosperity doesn't necessarily open hearts or brains, and in fact, can often close them. I also realized how propaganda works everywhere. I realized that education is not awareness. And that awareness is a choice.  But most importantly, I realized how we as a race, are wasting the tremendous potential we have at our disposal (even at the cost of lives) with petty bickering in which we let selfish, illogical insecurities flourish over common sense. This has very little to do with nationality and has a lot to do with greed and ignorance. Our fear of the unknown, our biases towards the unfamiliar, make us shout nationalism – without understanding what is really best for the nation or if really anything is ever best for any nation if it goes against the interest of the human race.
Q. Do you have any regrets? Would the decision change if you were to make that decision today?
Tanushree: I have been asked this differently: if you knew what you know today, would you have moved?
My answer is yes and no. Moving out of India and making a life in a different country made me a global citizen. Traversing national borders cleared me of the baseless associations that were limiting me from opening my heart. So yes for that. No, because living the life of an immigrant, splits you forever. That is the beauty, but that is also the pain – of never really fully belonging anywhere ever again.
Q. Many people who settle there suffer from a guilt of neglecting what they leave behind in India. Did you deal with that too?
Tanushree: I don't. I try very hard to work for the cause of gender equality and women's empowerment in India and in the world through my non-profit Her Rights. I put through several socio-economic development projects (including water purification with IIT Delhi and Scope and multiple others through ASHA and AID – organizations I volunteered extensively for all through my graduate school years) by finding international and national collaborations. In a way, I truly feel that I contribute more by being here than I would be able to if I worked and lived in India. So I don't feel guilty. The same applies to supporting my family. However, I do miss being there. I do miss being present and I do get affected when I see my parents getting lonely slowly over the years as my sister too now works in a different city. Maybe that will one day translate into some guilt – but not yet, as I weigh it constantly against other factors that I mentioned
Q. What do you think is the single biggest challenge Indian women settled there face?
Tanushree: Finding a cook. No, coming back to seriousness – I don't know if I can speak for all Indian women. Women who come here on H4, or without employment, or have to give up employment, I do feel face a tremendous amount of loneliness and loss of purpose as life is quite isolating here. I would dare say, for another group (working mothers), possibly being able to bring up their children is a big challenge. But I think the latter is the case for working mothers everywhere, especially now that families are having to work and live in cities different from where their home base is. For me, the biggest challenge I would say is not having family around – anywhere in the US. I still can't get over this.
Q. What do we see next from the writer, Tanushree Ghosh?
Tanushree: I have a novel and a non-fiction ready. Let's see which one finds a home first. And, of course, I will continue contributing to the forums and publications that allow me to express my social views. You can keep up (I try my best to make sure I keep this updated) at my website: www.thoughtsandrights.com, my author page on Facebook, or my twitter handle @thoughtsnrights.
---
Blurb:
Given The chance, would you be ready to immigrate. A majority would probably answer 'Yes'. Yet, immigrants are looked at with either contempt or segregation and rarely compassion, in their motherland and abroad. Post The 2016 US elections, The rhetoric is further reverberating. From cancellation of refugee protection, zero tolerance and undercurrent crackdown on H visas to racism, profiling and discrimination—the resurgence of nationalism is hitting The globalised population head-on.But what is immigration today. A question of life or death. A fleeing of persecution. A compulsion. Or a mere pursuance of privilege. And, what is USA today, especially for Indians.From An-Other Land is a reality check and an emotional guide for anyone who wants to understand modern-day immigration to USA.
Grab your copy of From Another Land, published by Readomania, here.