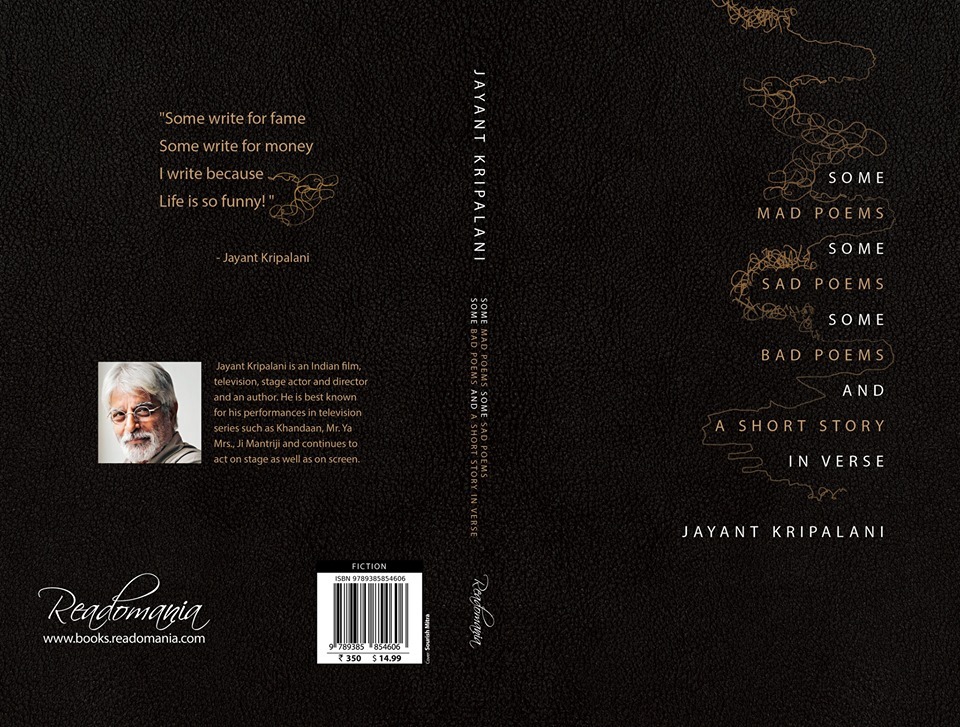 30 Mar

Some Insightful Some Hilarious Conversations – A Chat with Jayant Kripalani

I first met Jayant Kripalani at the launch of his novel Cantilevered Tales. He had us all floored with his witty one-liners and quips.

I had worked on the marketing for the book before its launch but hadn't interacted with him directly. When I finally met and, like the rest of the audience, got him to sign my copy of the book, I offered my name in courtesy. He quipped, 'I know!' To say that I was floored is an understatement.

Since then, his Facebook posts and our online interactions have often had me chuckling out loud. So when his next book was announced I knew I had to get my hands on it.

The title Some Mad Poems, Some Sad Poems, Some Bad Poems and a Short Story in Verse already had me smiling. For, despite my claims about not being a poetry person as well as my pathetic attempts at writing poems (or was it because of them), I could completely relate to the title. I was intrigued enough to want to read it.

And then I got the opportunity to pick his brains about it too. I come away laughing again. His answers are filled with wit at the surface and immense depth.

Here's the full interview for your reading pleasure.
---
You have been acting for many decades now. In the last few years you have also started writing. You had mentioned at one of your events that you started writing screenplays and then books just happened. Was that the only reason or you had something else working in favour of writing?
Let me think this through. NEW MARKET TALES was supposed to be a Television Serial that I had written and was supposed to be produced by Sidharth Basu's Company for STAR TV. The scripts were finalised, the set designs had been finalised, we were going into casting when there was a seismic shift in the genre of programmes preferred by Channels. We were shown the door. Our mothers-in-law and daughters-in-law were ushered in and New Market Tales as a TV show was aborted. Cut to a few years later, I was fiddling around with the scripts. One in particular sounded good as a short story. I bounced it off a complete stranger on Facebook. She forwarded it to Macmillan who sent me a contract. Many edits later the book was published. It sounds quite easy  but the whole process was rather painful.  For example in the script the description said: EXTERIOR. NEW MARKET. DAY. In a shoot the camera would have taken care of pretty much every detail of the scene. For the book, I had to describe it right down to the rows of singaras frying in a kadai. You know what I mean? Every detail. And that was painful.
The painful process became a challenging one. And then I started enjoying myself. I would still prefer making a film but I like the isolation as well as my relationship with a Mr Schaffaer, a bottle of ink and lined paper.
So, what looks better? The tinsel town or the publishing world? And, as an experience was acting and directing better or does writing appear more satisfying?
I couldn't tell which is more satisfying.  In  one I am interpreting the written word for the stage or the screen, to make it look real. In the other I am taking the real, converting it into words so that you can see the real on paper. Does that make sense? Both are a real turn-on.
Even so, if you were compelled to choose only one of the two, which would it be? What role is more creatively fulfilling – transferring the real world in the written form, or interpreting the written word for visual medium?
This is what I find really upsetting in this day and age. Why should I be 'compelled' to choose either?  Real choice is about not having to choose. Even out there in the world at large this has been extended to "You are either with us or against us. Choose." Why not take what I say at face value? – "Both are a real turn-on."
After writing short stories in New Market Tales and a full-length novel in Cantilevered Tales, you've come up with a book of poems in Some Mad Poems, Some Sad Poems, Some Bad Poems. How different do you think the two forms of writing – prose and poetry- are? What was your approach like towards writing a short story in verse as compared to had you written it in prose?
I'm going all over the place in this answer, so forgive me. I'm not too sure which came first while writing the short story – the story or the verse. Every time I tried to write the story, it came out in verse. And then I realised it wasn't really a love story between a boy and a girl that I was writing. I was writing about my love affair with a city.  Once I became aware of that I surrendered to the form.  I found that my observations in light hearted verse would best describe how I felt about the people and the city. For example:
Where, when you run to board a crowded bus,
Will fourteen hands reach out to pull you up?
Where would a vice chancellor lose his job
For eve teasing and a Hokkolorob?
A dirty old man in a forty five bus,
'By accident' rubs up, a young girl's bust
Loudly she says, so the whole bus will know,
'I hope my breasts aren't hurting your elbow!'
A few people to whom I read this out to were not too critical about it. A few of them went so far as to say, "Run with it."
So I stuck with verse. And once I made up my mind, prose didn't stand a chance.
I remember reading this verse in the short story. Your love affair with the city, as per your own admission, has been a long one. There would be many stories that still remain untold. And many more books to come. But what was it that made you return in the first place?
Bombay, a city I am still in awe of, was beginning to take its toll. Three hours to get anywhere. Collapsing transport systems. Dodgy health systems. Etc etc. A huge litany of complaints. I came back to Calcutta to chill for a bit. And decided to continue to chill. It's a far more satisfying city to live in. Of course how long this will last with the ruling party at the centre having declared an electoral war on Calcutta, who knows?
What has it been? Three years? Since I've been back? Have done a TV show, a couple of improv plays, written two books, acted in my first Bangla film, anchored some great live shows. I attribute this prolific output to the fact that Calcutta gives me time to do all this and created an atmosphere in which I CAN do all this.
Mumbai has been your place of work. And yet, your love for Kolkata is well-known. What's your relationship with Mumbai? Surely, you'd have many stories to tell based on your life and experiences as an actor. Will the actor ever cross paths with the author? May be, a memoir?
Who knows! Frankly I have never planned anything ever in my life. I've let things happen to me. If in the moment, the things and I have been compatible, they happen. If not, they don't.
Memoirs? Actually what seems to be an exciting life when you're outside looking in, is wrong. The life I've led is not worthy of a memoir.
The cover for the poetry book is very appealing but isn't the name a little too long? Why did you choose such a long name?
I struggled with this for a very short while. I had a number of 'antel' names (ask a Bengali what 'antel' means. I can't describe it.) And while proofing the MS I came across the rather painful fact that these were mad, sad and some fucking bad poems. Why fight it? The name wrote itself.
Tell us something about how your journey of writing your first book of poems. The first experience is always special. What were your special moments?
I would like to say that I thought about it and started writing poems. Perish that thought for a start.
I jot down thoughts, ideas, observations. Sometimes they are in long paragraphs. Those become prose.  Sometimes they are short pithy statements that I write down in a few lines. Four maybe seven. They come out in rhyme and sometimes not. They categorise themselves in to blank, free, or rhymed verse. I never work on them once I've written them down. I used to. But found the more I fiddled with a thought, the more convoluted it became.
The one special moment that I remember with great clarity is when someone very close, a dear friend, had died. His Last Will and Testament was a sombre, serious and sad piece of literature. And he had been a bon vivant, a man who loved every moment of his life and lived it. So I figured, the father-in-law in the short story, who I didn't like very much would die a fun death and leave behind a fun will. It came out rather dark but funny nonetheless. So I just kept it.
In the poem 'Another Intro' you've shared how you had set out to write the story as a screenplay but instead ended up with dialogues that rhymed.
Why did you choose to narrate this story through poems instead of prose?
The Park Street Cemetery is a spooky but inspiring place. Photo credit Jayant Kirpalani. All rights reserved. Images provided only for the use of this article. Reusage and Reproduction is prohibited.
The minute the girl became Calcutta in my head, any screenplays I had in mind disappeared. And as one of my friends and one of my sternest critics said, "you bastard you've taken the lazy way out." And maybe she's right. Writing in verse did become effortless. I could skip over details that I might have had to dwell on in prose or in a screenplay. So much was said without my going into individual dialogues for the characters. So lazy it was. But such fun.
In 'Some Mad Poems, Some Sad Poems, Some Bad Poems..', you've raised dissent against current events and issues. Poems like Apatheism, Baul Singer, People, Who, and many others, are powerful and scathing attacks on various incidents and people. Given the fragile social fabric of our country, what role does dissent through literature play in society?
In this day and age is one allowed to show dissent? One hears horror stories about people being killed, others, whether they are in wheelchairs or not, being incarcerated in hideous conditions and so on. One does hesitate before showing dissent. I try to show dissent without being offensive or malicious. I choose to be anti-religion, not anti-any-particular religion. I choose not one party to be anti about. – All of them at some stage or the other have stirred me from my somnambulance to express some sort of dissent. Whether what I write plays a role in changing society who the hell knows!
Every society needs to have freedom of expression, be it any form of art. A similar sentiment (about the need to write and express freely) is expressed in Sad Poet. It is clear that you support freedom of expression. But how much freedom is good and what is the line that cannot be crossed? Is there and should there be a line at all?
Let me paraphrase Gandhi. I am not to sure of the exact quote but he did say something to the effect that freedom does not work if you do not have the freedom to make  mistakes. You are free to say whatever you want. I am free to be offended by it. And as Noam Chomsky puts it, "If we don't believe in freedom of expression for people we despise, we don't believe in it at all."
All freedom is good. Period.
The line not to be crossed is imaginary. Drawn by the society we live in and the laws that govern this society. Laws that come with their own limits of decency and of trust.
Your writing is mostly inspired from real incidents. New Market Tales, Cantilevered Tales, and now even your first poetry book, Some Mad Poems, Some Sad Poems, Some Bad Poems and a Short Story in Verse have characters that are inspired from real life people. That makes your writing rooted to reality. How difficult or easy is it to create fiction that is close to reality and yet far enough to be called fiction?
Fiction, fiction, fiction. I write fiction. Or so I thought when I wrote New Market. The characters were based loosely on some people I knew. Some were composites of five or six people. Most of them years older than me. I thought most of them were dead. And then the phones started coming.
"I say Jayant, how did you know this about me?"
"Behenchut(In Sindhi) who are you to write about my life?"
There were many such and all these from persons I was sure were dead. I'll say one thing that I've always known – there ain't no such thing as bad publicity. Every single one of those phone calls thanked me for remembering them. And portraying them in a good light or bad didn't seem to matter.
Your previous book-Cantilevered Tales, and now this one- Some Mad Poems, Some Sad Poems, Some Bad Poems and A Short Story in Verse –both have generous use of humour and satire. What makes satire so special? Have you considered writing in another genre?
I don't think I am consciously humourous or satirical. I report things as I see them. As the blurb in  Some Mad Poems says ,
Some write for fame,
Some write for money,
I write because
Life is so funny.
And life is just too damned funny. Even the tragic bits are funny. The way Harsh ends up in Cantilevered…; The way Homi dies in New Market.
Your first book was by Pan Macmillan and the next two from Readomania. The first one was an established house of international repute. Readomania is a relatively smaller and newer brand. Why did you choose them?
I didn't choose either. They chose me. I was at the Cantilevered  book launch recently in Bombay and during the Q and A a lovely lady got up and asked, "Do you think your publisher/s would have looked at you if you hadn't been a semi celebrity?"  I was annoyed for a split second there and then it dawned on me that she was right. I had absolutely no claim to any literary credentials and yet here I was.
So much to her surprise I replied honestly. I said "No. But sometimes being a semi celeb pays off. And I've decided to cash in on it."
It would be fair to say, I suppose, that both publishers and I have used each other to further our own agendas, don't you think?
---
I don't know about that but we readers certainly are not complaining! 😀 It was a pleasure talking to him about his writing and books.
Some Mad Poems, Some Sad Poems, Some Bad Poems and A Short Story in Verse is available online at Amazon and offline at bookstores. Do grab your copy for this is one entertaining read you shouldn't miss!
All images in this post have been used with permission for the purpose of this interview only. Any reuse or reproduction without prior permission is prohibited. All Rights Reserved.